Pecan trees are a part of our plan for the homestead. New Mexico is the 3rd largest producer of pecans (after Georgia and Texas), so they grow quite well in the region. We plan to plant several of the trees on the 5 acres, and to eventually produce pecans for our own use and for sale or trade. On a good year, a mature (15 year) pecan tree can produce 50 pounds of nuts per tree. Older trees can produce 100-200 pounds of nuts per year if well-watered and fertilized.
Pecan trees need a good deal of water, so some form of irrigation is a must in dry southern New Mexico. Our plan is to build a watering system using water from our well. We've designed and installed our own watering systems in several places, so it shouldn't be a problem. However, pecan trees do better with an occasional flooding than with frequent sprinkling. They need a deep watering to produce well. Apparently, water is very critical during the late-summer and autumn months for production in the next year.
NMSU has a very helpful publication with information about planting and care of pecan trees in New Mexico. From their publication I learned this:
Plant at least two varieties to ensure pollination. Varieties suggested for planting in New Mexico include 'Western Schley', 'Cheyenne', 'Ideal' ('Bradley') and 'Wichita'. The last two varieties are recommended as good pollinators.
A family friend still sells mature trees, of which we hope to buy at least two. Perhaps we'll plant 2-3 more bare root trees from nursery stock to add to the orchard at a lower cost.
NMSU has another very helpful publication about the transplantation of mature trees. From that publication, I learned:
Mature pecan trees can be transplanted successfully at
any time of year in New Mexico. However, winter-transplanted
trees certainly experience far less water stress—
orchard water loss is minimal when the weather is cool;
the trees are dormant with minimal to no water needs;
and the root system has a chance to regenerate before
the heat of summer arrives.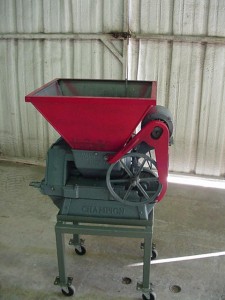 Along with planting the trees, we have investigated the possibility of purchasing a cracking machine. Many homeowners have pecan trees in their yards and, like most people, find hand-shelling too tedious to do in large quantity. Our thought is that we could potentially barter cracking services for a portion of the harvest, which could be bartered for other things or sold.
There is a huge range of pecan processing equipment out there, but most of it seems to cater to large commercial processing operations. I found a couple of different crackers that seem to be a bit more attractive in terms of size and cost to a small homestead project. It looks like the approximate cost of the cracker would be about $3000. More investigation will certainly be done before any purchase is made.
Many cultivars bear in large quantity only every other year, so having several trees will increase our chances of a decent crop every year. With a bit of care, including pruning, watering and soil amendment, when needed, these trees will produce nuts, provide shade and produce leaf mulch long after our lives are done.